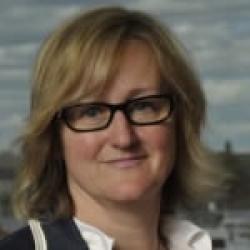 Position(s)
Associate Professor and Associate Director (Healthcare Quality)
Contact Info
(613) 533-6000 ext. 78763
Graduate Student Supervision
I am currently accepting MNSc and PhD students in the areas of safe medication delivery, the occurrence of errors in healthcare, adverse drug events or quality of care.
Teaching
"The problems that exist in the world today cannot be solved by the same level of thinking that created them."—Albert Einstein
Life is about discovery. My philosophy is that current understandings are always changing and it is important to be open to investigating new sources of knowledge. As learners, we should always endeavor to imagine how things could improve and this means challenging the way that things are currently done. In the classroom, I welcome students to challenge my content and then to explore different perspectives. I believe that teaching is a privilege and I am honoured that I can contribute to the education and scholarship of students.
I have over seventeen years' experience teaching nursing both in the undergraduate and graduate programs. Throughout my teaching experience I have primarily been involved in maternal child theory and clinical, and professional nursing courses. Over the past five years my teaching has focused on quality, risk and safety in healthcare to learners from various backgrounds including nursing, medicine, law, engineering, physiotherapy. I regularly uses different modes of delivery such as; small group, large classrooms, e-learning environment, distance learning, virtual clinical excursions (VCEs) and simulation. 
Research
I conduct an active program of research in health services with a focus on advancing quality care, reducing risk and improving patient safety. The majority of my work focuses on furthering the quality and safety of medication delivery. I explore the advancement of medication delivery in Canada and internationally including both the community and hospital settings for children and adults. My research projects fall under the Queen's Nursing and Health Research clusters of Health Care Quality.
Service
I am involved in service on a local, national and international level.