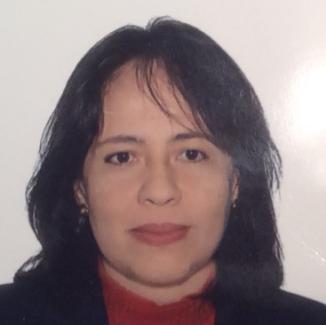 Education
Enfermera (Universidad de la Sabana, Colombia)
MSc (Universidad Nacional de Colombia)
PhD (Alberta)
---
Graduate Student Supervision
I am currently accepting MNSc and PhD students.
Teaching
My approach to teaching with students is rather simple. I see myself as a facilitator of students' learning goals. This facilitation process creates a unique and more inclusive learning environment where students are actively involved in dialogue and collaboration to learn effectively and gain knowledge. As a teacher, I encourage my students to share their valuable experiences that enrich and add meaning to the learning experience. Their diverse backgrounds, beliefs and values enhance and strengthen learning encounters. In this way the process of learning becomes a process of mutual growing and understanding. To me teaching carries great responsibility. As teachers we have the potential to affect the provision of appropriate healthcare of current and future generations in any given society. What students learn from their teachers will most likely stay with them for the rest of their professional lives. In nursing, of paramount importance is that a teacher stimulates intellectual curiosity, enthusiasm for learning and critical thinking particularly in light of the growing need for advocacy, social justice, social inclusion, compassion, health equity and the provision of culturally appropriate nursing care for our patients.
Research
My program of research is oriented to investigate and alleviate health inequities and symptom burden in vulnerable populations with a high burden of chronic diseases. In my doctoral studies, I explored the experience of people living with chronic illness, in the context of globalization and neoliberal policies. Following a critical interpretive methodology, I investigated the social, economic, and political structures that impinge on the lives of people with chronic illness in Colombia and in Canada. Participants in both countries felt marginalized. Research findings in both countries revealed how participants cope with the effects of economic markets and corporate agendas that regulate societies and healthcare systems. These insights motivated me to pursue postdoctoral studies with an Access Research Initiative (Canadian Institutes of Health Research (CIHR) funded) housed in the Faculty of Nursing at the University of Alberta. This experience led me to engage in participatory research with Indigenous communities in Alberta to investigate together the gross health inequalities in access to healthcare services they bear. Through both research experiences, I have developed a greater understanding of the deleterious effects of social and health inequities for people with chronic illness and minority populations and how high quality research is fundamental to informing nursing practice and policy decisions. My research approaches are informed by the human sciences philosophical tradition (interpretive inquiry) and emancipatory perspectives (Critical pedagogy and Community Based Participatory Action Research). My projects fall under the Queen's Nursing and Health Research clusters of Populations with Complex Health Conditions and Health Care Quality.
Publications
Camargo Plazas, M.d.P., & Cameron, B.L. (2015). Freire's Participatory Educational Method to Understand the Experience of Living with Chronic Illness in the Age of Globalization.  Journal of Nursing Research, 23(2), 83-93. doi: 10.1097/JNR.0000000000000090
Cameron, B.L., Camargo Plazas, M.d.P., Santos Salas, A., Bourque-Bearskin, L. & Hungler, K. (2014). Understanding Inequalities in Access to Healthcare Services for Aboriginal People: A Call for Nursing Action. Advances in Nursing Science special issue on Health Equities, 37(3), E1-E16. doi: 10.1097/ANS.0000000000000039.
Guerra Guerrero, V., Camargo Plazas, M.d.P., Cameron, B.L., Santos Salas, A. & Cofre González, C.G. (2014) Understanding the Life Experience of People on Hemodialysis: Adherence to Treatment and Quality of Life. Nephrology Nursing Journal, 14(3); 289-298.
Camargo Plazas, M.d.P. Cameron, B.L. & Smith, D.G. (2012). Neoliberal Oriented Health Care System Answer to Global Competition or a Threat to Health Equality for People with Chronic Illness. Advances in Nursing Science, 35(2); 166-181. doi: 10.1097/ANS.0b013e31825372a4.
Camargo Plazas, M.d.P. (2009). Mapping Chronic Illness in the Age of Globalization: Reclaiming the Good for the Chronically Ill.Advances in Nursing Science, Apr-Jun; 32(2):E30-41 doi: 10.1097/ANS.0b013e3181a3b354.
Book Chapters:
Camargo Plazas, M.d.P. & Cameron, B. (2015). Entendiendo las Inequidades en Salud a través de los Determinantes de la Salud: Un Desafío para la Práctica de Enfermería. [Understanding Inequalities in Health through the Social Determinants of Health: A Challenge for Nursing Practice]. Paper submitted to consideration for the Book of Nursing Care. Bogota, Colombia: Universidad Nacional de Colombia.
Camargo Plazas, M. d. P. (2005). The experience of living with and caring for their own chronic illness in Funza (Colombia). In La investigacion y el cuidado en America Latina. [La experiencia de vivir y cuidarse en situaciones de enfermedad cronica en individuos residentes del Municipio de Funza.] (First Edition ed., pp. 447-484). Bogota, Colombia: Universidad Nacional de Colombia.