Better together: Learning partnerships for healthier communities
​Queen's NURS 371 practicum in maternal, child and family-centred care gives nursing students important interprofessional learning experiences with a variety of health care partners, including the doulas at Childbirth Kingston.
When imaging what health education is like for nurses, it is easy to assume students' practicum placements take place mostly in emergency rooms and on hospital floors. However, community settings offer an important range of experiences and lessons for any future health professional. It's one of the reasons why third-year nursing student Jackie Main was excited to learn that she would be working with Childbirth Kingston as part of her placement rotations this school year. Since starting the Bachelor of Nursing Science program at Queen's, she's been interested in learning more about community-based health promotion and care.
"I have always had an interest in public health and community nursing, so I was happy to be presented with an opportunity to get involved in doula care within the Kingston community," says Jackie, who completed her placement with the organization over the Fall semester.
Childbirth Kingston is an important community resource both within the city and the surrounding rural areas, providing childbirth education, doula support and hosting a hub of information for families and pregnant people. The organization aims to educate parents on the birthing process, labour experiences, and how choices can impact or facilitate the kind of birthing experience they hope to have.
Jackie's involvement began with the practice course 'NURS 371: Maternal and Child, Family-Centred Care'. This semester-long clinical practicum focuses on providing family-centred care: from preconception to the postpartum period of pregnancy, and the care of children from infancy to adolescents. The course's broad focus means there are plenty of opportunities for students to learn in a wide variety of settings.
"During their time in the course, students may have the opportunity to be part of the care of families during prenatal appointments, participate in a birth, and help the family transition in the postpartum and newborn period. Some students learn how to care for neonates [newborns] in the NICU setting, as well as the pediatric in-patient unit," explains course coordinator and Queen's Nursing faculty member Alicia Papanicolaou. Regarding community placement opportunities, Alicia says that course rotations can be with a variety of care providers. Public health, midwife-led clinics, outpatient emergency and primary care clinics, childbirth education classes and youth hubs, are just a few examples of the types of partner organizations students might work with throughout the course.
Working directly with Childbirth Kingston's doulas, Jackie conducted a needs assessment and created resources for the agency. This led to her developing and designing cue cards for labour support, to help reassure and empower clients as they navigate their birthing experience. Many of the course's preceptors within community settings are not nurses, allowing students gain expertise from interprofessional and cross-disciplinary mentors.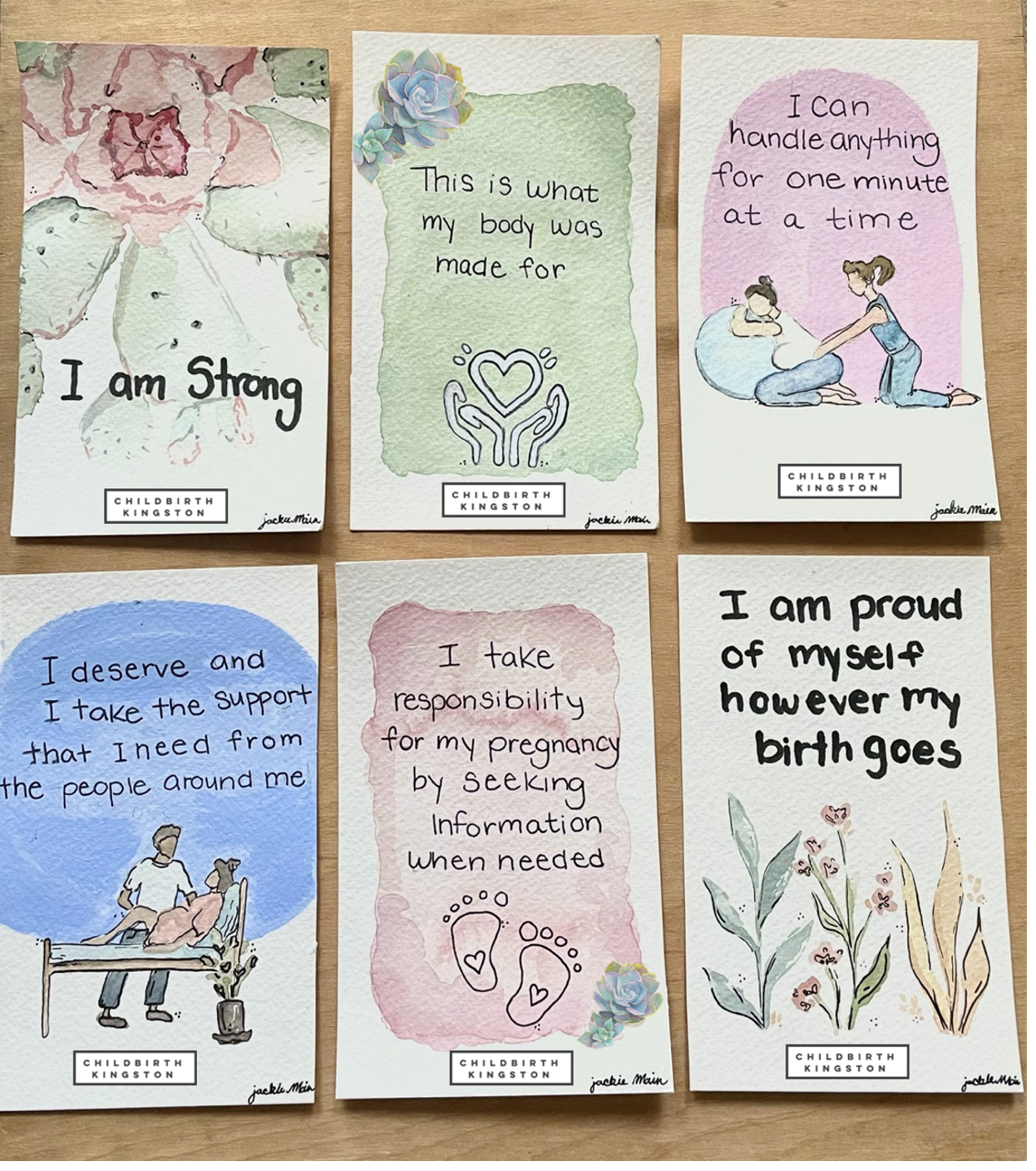 As part of her placement, Jackie designed and developed affirmation cue cards for labour support, as a resource available to Childbirth Kingston clients.
Mandy McLellan, childbirth educator, birth and postpartum doula, and Director of Education at Childbirth Kingston, was Jackie's preceptor during her time at the organization. She says the partnership with Queen's gives nursing students the opportunity to see the birthing experience from the client's perspective, while also exploring how hospital culture and clinical interventions can have deep, lasting impact on an individual's birthing and early postpartum experiences.
"Nurses have a tremendous amount of influence in the birthing space—they are the default go-to when birthing parents have a question or a need," says Mandy. "And with great power comes great responsibility. It's super exciting to think that CBK [Childbirth Kingston] may help facilitate a shift in perspective in our birth culture and in how we [doulas and health professionals] approach maternity care."
When nursing students work with Childbirth Kingston, they learn strategies for providing comfort measures during labour. It's an example of how learning partnerships between nurses, doulas, and other labour support providers like midwives, can create healthier communities. While each of these groups have differences in professional regulations and what they are trained to do, their objectives remain the same: fostering positive experiences and outcomes for their patients and clients. Working together provides a more robust, patient-centred model of care.
As the course instructor, Alicia sees the wider impact of these learning partnerships even before students leave the classroom. Positive education experiences, like Jackie's, can encourage future interprofessional collaboration when students start their nursing careers.
"Students often comment on how the doulas encourage and empower clients to advocate for themselves," says Alicia. "This is a valuable skill that I hope they transfer into a variety of clinical settings. [With Childbirth Kingston,] students develop the ability to give clients the necessary information to make informed choices regarding their pregnancy, birth, and newborns."
Childbirth Kingston wasn't the only organization Jackie worked with during her time in the course. She had a variety of placement opportunities in multiple health care settings, on inpatient floors and in outpatient clinics. Overall, she feels the course has had a valuable impact on her nursing school journey.
"My duties varied depending on where I was placed, however all placements I did provided an education and developed my health teaching skills!"
​